is it your time to shine?
By Mark Ortiz, Stone Restoration Specialist
Stone care  is not a New Years resolution, but a year round necessity in order to preserve your natural stone counters.  In this short newsletter you will determine if you need to call us to do a little freshening up on your stone.
Let's look at a few popular countertop surfaces in your homes.  There are granite, quartzite, marble, soapstone and engineered quartz. There is no maintenance free surface even though some counters rarely need professional care.
As always, we at PGS thank you for being your first choice in stone and tile care. Your support and your referrals, especially in these cockeyed times, mean the world to us. Let me know if I can help you with any of your stone care needs.  
Mark Ortiz - Owner
---
        Granite and Quartzite
Granite and Quartzite are very similar in characteristics and care.  Both stones are hard to scratch and are two of the most durable surfaces for kitchens and baths. Most are low in porosity and therefore do not stain easily, yet some are naturally very porous and can stain from oils and liquids.
The most common maintenance needed is cleaning and polishing around the sink and the faucets.  Hard water builds up and dulls the surface.  Caulking around the sink begins to lose its elasticity and separates allowing water to get behind the stone. This water intrusion can cause the stone to crack.  Sealing every 3 to 5 years is my recommendation on all types of kitchen counter tops.
What to look for :  Dullness, stains, minor fissures or cracks.
Work needed: Cleaning, polishing, sealing, caulk replacement.
---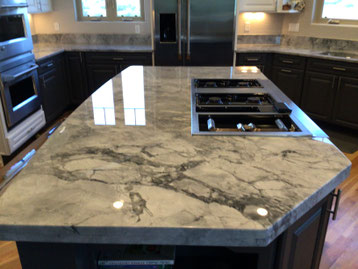 Marble                                          
Marble is one of the most versatile and widest color options of all the natural stones. Marble has been used for centuries throughout the world and continues to be the stone of choice for countertops.  The main concern people have for marble is that it dulls from exposure to acids, called 'etching'.  If someone is not aware of this, then it can drive an OCD'er,  bananas.  It scratches easier than granite, but deep scratches are not common for kitchen counter tops unless knives are used directly on the surface. Use cutting mats please.
The most common maintenance required on marble is refinishing and polishing. The beauty of marble is that it can be refinished many times over without ever wearing down. Refinishing removes etches, scratches and dulling.  Some customers prefer us to create the honed matte finish instead of the polished to minimize the appearance of etching and wear.  Sink caulking and backsplash joints often crack from movement and needs to be re-filled.
What to look for:  Lack of reflection, rings, dull spots, scratches.
Work needed:  Refinishing, polishing, sealing, caulk replacement.
If you want complete etch prevention on marble then we only recommend Tuff Skin Surface Protection. See link below.
https://www.perfectgranitesolutionscolorado.com/tuff-skin/   The photo above was treated with Tuff Skin at our newest location in Colorado.
---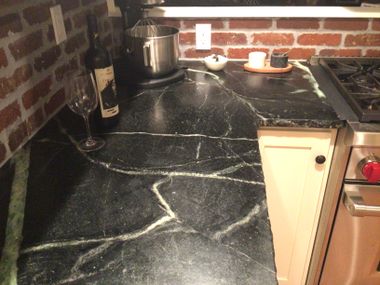 Soapstone
Many people are not aware of the timeless and unique stone, called Soapstone. It's a naturally softer stone therefore it scratches easily. Unlike marble, it doesn't etch from acidic liquids.  Most owners apply mineral oil or paste on the stone weekly in order to restore the color and hide the scratches and wear. It's easy to do and kind of therapeutic if you ask me.  
The most common issues are overall wear and color fading.  PGS refinishes the entire surface producing a clean, scratch free counter.  We do not apply an oil or paste, but a penetrating color treatment that remains darker with use. More aggressive wear still requires some mineral oil touch ups, or we can suggest a sealer maintainer for you instead.
What to look for:  Scratches, worn areas, chips at sink or along edges, color fading.
Work needed:  Refinishing, chip filling, color treatment.
---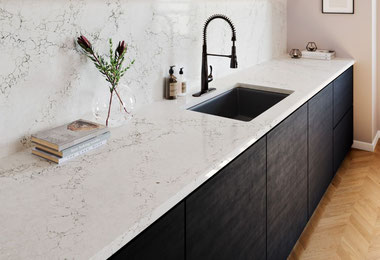 Engineered Quartz
Engineered Quartz (or universally called, Quartz) is one of the newer products on the market, comparatively speaking, and has its own set of issues.  For a more detailed explanation I highly suggest you read my stone newsletter titled, "Engineered Quartz"  Especially if you sell, suggest or install quartz. 
https://www.perfectgranitesolutions.com/engineered-quartz/
Quartz is a hard surface similar to granites yet due to its resin composition, it can be affected by certain caustic chemicals used on and around the counter. Most chemicals, liquids and foods  used in kitchens minimally affect the surface, yet over time the surface becomes less polished than original install. It's a subtle change, but like granite, it usually occurs around the sink area. PGS uses safe compounds to buff and polish without compromising the polish. Sometimes the surface dulls in random areas needing additional refinishing, yet this requires a skilled technician that knows the limits of the quartz.
The greatest concern on Quartz is heat damage. Always use hot pads. Heat changes the composition of the resin producing a very noticeable and distinct yellowing or dulling.  Caustic chemicals such as acetone or paint stripper can also damage the surface.  This type of damage is often permanent. 
What to look for:  Dull or rough areas around the sink, chips along the top edges, color fading in the sun.
Work needed:  Light abrasive cleaning, polishing and chip repairs.
---
---
FINAL THOUGHTS
If your counters are in great condition, then two thumbs up on keeping them looking good. If you notice any of the issues mentioned above, then give us a call or send an email, and let's see what we can do to help you . We work on all types of surfaces throughout your home. 
If you mention this newsletter with your call, we will include a recommended cleaner for your particular counter tops. Our goal is for you to have a long lasting, beautiful kitchen and bath counter tops for the life of your home!
Pass this useful information to your staff and everyone associated with the stone industry. Let us know if you want to be added to our Monthly Education Newsletters. Do you have a topic that the industry needs to know about? Email it to me: mark@perfectgranitesolutions.com