We are returning strong here in 2019 with our informative and mildly entertaining newsletter from Perfect Granite Solutions, the premier experts in natural stone care, custom textured finishes and our newest, dustless sand blasting services.
We have been working hard to launch our social media platforms (find us on: Facebook and Instagram) with the help of Faeda, owner of Insquired. We hope you like it. Contact Faeda at 951-642-8091 or at Insquired.com if you need design and branding services. She's terrific! Okay, that's the plug. In addition, I have inserted some pics from Instagram with tags if you want to check them out yourselves.
Now let's get busy at Perfect Granite Solutions' exclusive and prestigious university with our professor Mark Ortiz. 
WHITE MARBLE
By Mark Ortiz, Stone Restoration Specialist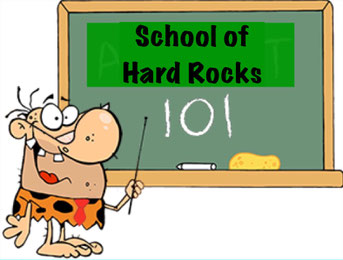 Let's have a discussion about the most desired stone for centuries, white marble.White marble is the generic term even though it comes in white, off white, light gray to dark gray, including black, beige and gold veining. We have dozens of names for white marbles such as Bianca, Carrara, Statutory, Thassos, Snow White and any other creative name the Namers have come up with. There have always been stone experts who will disagree with the names you call it, but that never bothered me too much and won't bother me now, and it shouldn't bother you either. There is no rule to which name you can call a rock, but we have general descriptions, consensus and sometimes geological descriptions to help customers find the right stone for them.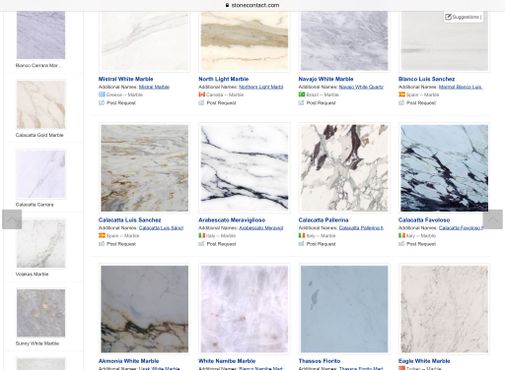 Look at this very small stone chart of a few stones with "White Marble" titles. You can obviously see the wide range of colors and country of origin. I found this on Stonecontact.com. If you want to see more.
When someone asks me, "Have you heard of (any name) white marble? I usually answer with my most intelligent fake response, "Of course I do, yet there are dozens of different names of white marble and I cannot possibly know them all." I, like so many people, are guessing what it is. As a stone repair, sealing and maintenance specialist I observe the characteristics of the stone such as grain, hardness, pitting, mineral content, porosity etc. This knowledge helps me to make better decisions for the user and better solutions to the problems. For the most part, all white marbles are similar in the way it was formed and how it responds to its intended use.
For the last 5-10 years I have heard much too often that fabricators, designers and smaller retail outlets are not recommending white marble for kitchen and bath counters. When I recognize this lack of understanding I put on my "opportunity smile" on and begin to speak. These well intentioned experts are not familiar with how to care for natural stone and just pass along poor misinformation, which we now call 'fake news'. Through speaking opportunities and our newsletters I now have made the opportunity to educate on facts plus my experiences with white marbles.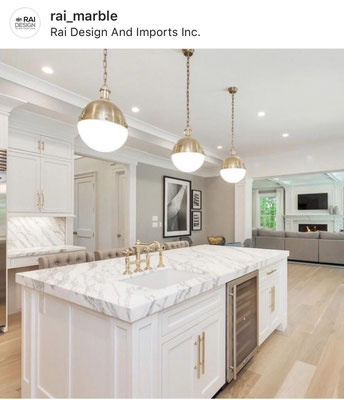 Observe the process to get this island from the mountain to install.
It starts in a Quarry somewhere around the world
Block cut in giant cubes to remove from the quarry
Transportation - Load onto giant flat beds
Take to a block cutter and slice into 1/2" to 2" widths slabs
Polish, hone or leather the slabs
Transportation - Load onto semi truck containers 
Unload containers in a local Slab Yard
Deliver your slabs to a fabricator shop
(Or to Perfect Granite Solutions to Hone or Leather)

Fabricator cut it into its required size and polish the edges
Transportation - Deliver to the home or business in pickup trucks
Installers hand carry the heavy slabs and place on the cabinets 
Clean, polish and seal ensuring protection against staining.
User enjoys their new counter.
This 3 slab kitchen above took a long time to get here. In another newsletter we will look at each step closer, but for now we must realize it didn't just 'show up' one day. You must consider this as you inspect and critique your stone installation. Issues will come up but most can be solved when experts in repair and sealing are called.
I have heard the same repetitive reasons to not use white marble. Here's what they say. "It stains, everything leaves a mark on it, it scratches, my granite never did these things, it's not easy to fabricate and install, it cracks, my fabricator told me not to use it, and my painter said it has a lot of problems."
I actually agree with most of these comments by the way, yet I could double that list with reasons why not to have children! But we still have them (We have 4 by the way). And listen to your painter, really?  The important thing is to properly educate the user so they can make the best decision possible. After listening to honest reliable information they may decide in the end to not use white marble and that's also a "win" for everyone! There are many other great choices.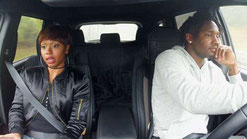 But I wouldn't want to be the one that discouraged her from using white marble and then when she sees it at her mother-in-laws house entertaining friends and 'loving it!' Yikes, imagine that conversation with hubby on the way home.
So let's get real here with the truth about white marble and make some educated decisions. White marble may be new to some people, but not to, say, Michelangelo.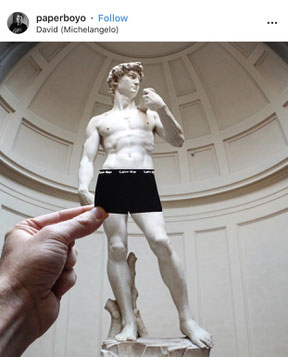 This 17 foot marble sculpture was created between 1501-1504 by the Italian artist, Michelangelo. It's a statue of the biblical king of Israel, David, who killed the giant, Goaliath with a single stone. Marble has been used to build historical buildings, monuments, statues and roads for centuries, even for taking out giants. Most of the white marble we see today comes from Carrara Italy. It's spelled C-A-R-R-A-R-A, and it sound like (car-rah-rah), or you can ask an Italian what it sounds like, they take those things seriously.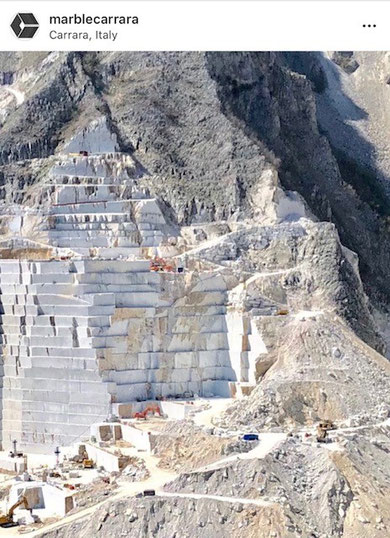 The Carrara quarry has produced more white marble than any other place on earth. Many men have lost fingers, limbs and lives removing millions of tons a year and shipping around the world. When I spoke to Gian Franco (owner of a quarry in Carrara) I asked him, " When will you stop quarrying marble from this site?" He quickly responded in Italian, "Does a horse ask when the stream will run out drinking water?" I chuckled, but afterwards I wasn't sure how to take that comment since I was a young stone polisher from Anaheim California. However, the fact that this very quarry has produced hundreds of tons of stone for thousands of people, buildings, monuments and is the origin of the statue of David is a paradigm I still shake my head at of disbelief.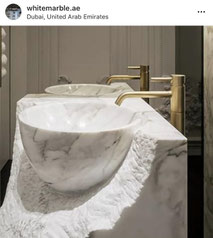 White marble has been used for millions of counters, showers, floors, tables, statues, paper weights, coasters, driveways, fountains, walls, artwork….and dozens of other applications throughout the millennia.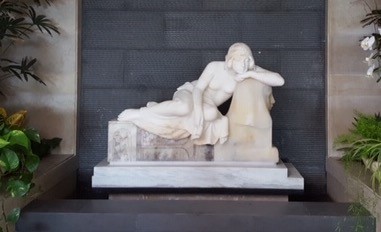 To the right is a Cleopatra statue we restored. Our daughter, Angelina, hand drew the original hyroglifics on the lower part of the statue that wore away over the years. We can do more than just restore stone.
We have restored white marble floors, counters and showers for over 25 years. So why all this history? To show that white marble was made for us to use and enjoy. So let's see reasons why we can enjoy white marble today.
Positive reasons to use white marble
+     Easy to decorate with
+     Easy to care
+     Timeless
+     Can be refinished and repaired for hundreds of years.
+     Practical for many uses
+     A focal point for homes
+     Looks clean, sharp and elegant
Negatives of white marble
-       Iron oxidizes in stone in wet areas (15% of installs) (My evaluation only)
-       Shows etches (dull spots) on polished surfaces.
-       Ummm….. that's it!
That's it?  Yes everyone, that's it from over 25 years of working with stone. So why all the fuss? Why the negativity? Because there are always the "experts of nothing" that give their opinion on things they are not aware of. So how do we wrap this education lecture up? By giving you my expert opinion on common white marble surfaces.
Counter tops
If you want polished marble counters and understand that acidic liquids such as juice, wine, vinegar, and margaritas will dull it, but you don't mind that or can afford someone to come out every 1-2 years and re-polish it, then go for it! I am much rougher on my white marble counters as I am with a lot of things and therefore I honed ours. Honing means removing the polish so we don't notice as many etches. In most applications you can use abrasives cleaners on honed surfaces to remove light etching.
Floors
Marbles are a softer stone and under heavy traffic it needs to be re-polished when it appears necessary. I've seen white marble in malls and restaurants for decades and every time it's re-polished, it looks amazing! Honed or textured white marbles need deep cleaning periodically, but that easy and not as costly for the average homeowner.
Showers
For regularly used showers, such as the master shower or gym, I recommend the honed finish. The moisture, soaps and common cleaners dull the surface so keeping it shiny is not always practical for 80% of the owners. 20% of my customers can keep the shower shiny by wiping it down after every use and cleaning weekly...that's not me. I highly recommend not putting white marble on the pan (floor of the shower) because it will most likely discolor, darken, or turn rust color within a year from the inherent iron oxides. Sometimes discoloration occurs immediately after installation. I would instead use a non slip porcelain or ceramic on the pan to compliment the marble walls. As Rush says, "Don't doubt me on this." It works!
Exterior
I have seen thousands of exterior marble installations and the only issues are the large panel formats on buildings and floor tiles oxidizing and turning yellow. Other than that, all textured, chiseled, honed and tumbled stone wears and ages 'practically perfect in every way' (MP). Aging is the slow natural changes stone experiences when exposed to the natural elements and use. All stone surfaces 'age' over time.
Final Thoughts
White marble will not disappoint you or your customers if you just spend time educating them a little. The internet is not the best source but it can be if you know where to look. As your local seasoned stone restorer and educator I give the green light to choose and promote white marble. If you need more information on your application, send me an email or invite me to see what you have. I will steer you in the best direction possible. I'm fallible and so is marble….but let's use them anyways!  And always remember… GO NATURAL!